Studio Ghibli, the wonderful Japanese animation studio founded by animation legends Hayao Miyazaki and Isao Takahata, is sending more of their classic films to U.S. theaters again in 2018. After a successful run of screening six of their films last year on the big screen under the guise of "Studio Ghibli Fest 2017," Studio Ghibli along with the film distributor GKIDS will be screening a whopping nine films in over 700 theaters across the U.S.A. for their upcoming Studio Ghibli Fest 2018.
If you are a Studio Ghibli or anime fan (or both), you will love seeing these digital prints of these beautiful films on the big screen. Theater listings and tickets are now available on the Fathom Events website. Both English dubbed and subtitled versions will be shown (check the Fathom Events site for details). Here's a graphic with the full lineup (courtesy of the GKIDS Facebook page) so you can save the dates on your calendar.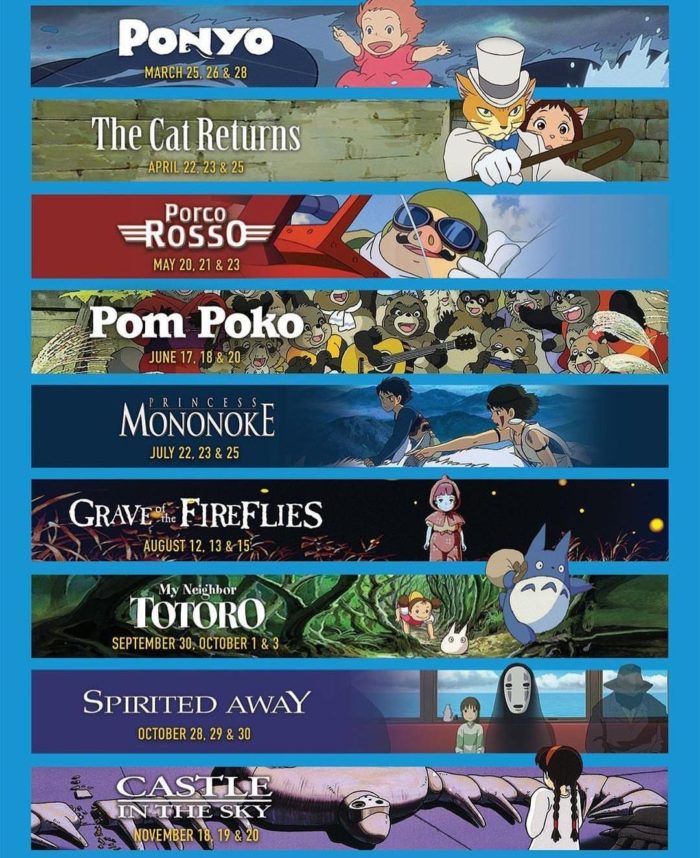 GKIDS also provided these official film summaries and images, too.
Ponyo – 10th Anniversary
Sunday, March 25; Monday, March 26 and Wednesday, March 28
When Sosuke, a young boy who lives on a cifftop overlooking the sea, rescues a stranded goldfish named Ponyo, he discovers more than he bargained for. Ponyo is a curious, energetic young creature who yearns to be human, but even as she causes chaos around the house, her father, a powerful sorcerer, schemes to return Ponyo to the sea. Miyazaki's breathtaking, imaginative world is brought to life with an all-star cast, featuring the voices of Cate Blanchett, Matt Damon, Lily Tomlin, Liam Neeson and more.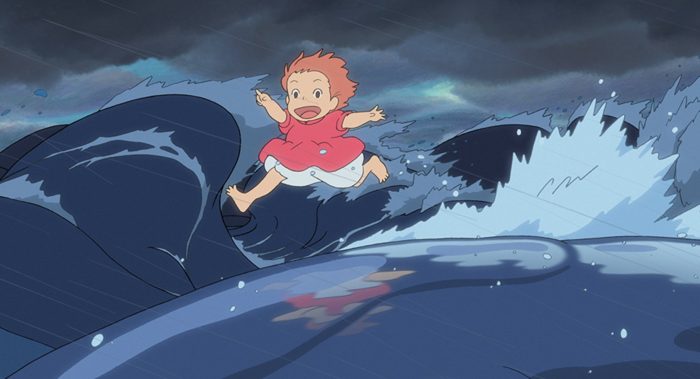 The Cat Returns
Sunday, April 22; Monday, April 23 and Wednesday, April 25
Haru is walking home after a dreary day of school when she spies a cat with a small gift box in its mouth crossing a busy street, and she jumps in front of traffic to save the cat from an oncoming truck. To her amazement, the cat gets up on its hind legs, brushes itself off, and thanks her very politely. But things take an even stranger turn when later than night, the King of Cats shows up at her doorstep in a feline motorcade.He showers Haru with gifts, and decrees that she shall marry the Prince and come live in the Kingdom of Cats!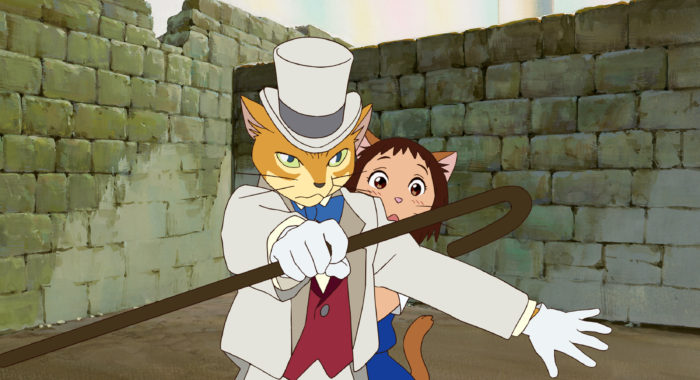 Porco Rosso
Sunday, May 20; Monday, May 21 and Wednesday, May 23
Porco Rosso is a world weary flying ace-turned-bounty-hunter, whose face has been transformed into that of a pig by a mysterious spell. When he infuriates a band of sky pirates with his heroics, the pirates hire Curtis, a hotshot American rival, to get rid of him. But with the help of the teenage girl Fio, an aspiring airplane designer, and sultry lounge singer named Gina, Porco takes to the skies for what may be his final high-flying showdown.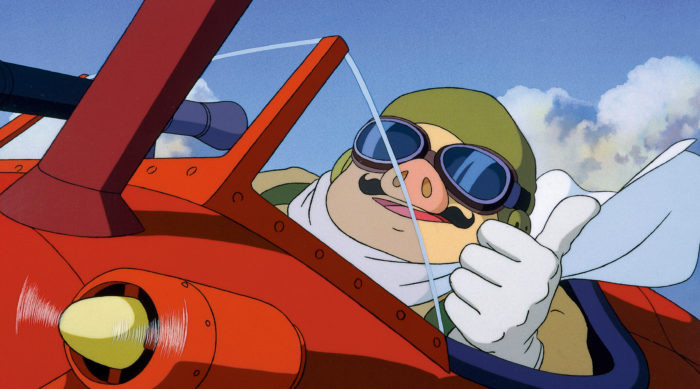 Pom Poko
Sunday, June 17; Monday, June 18 and Wednesday, June 20
From the legendary Studio Ghibli, creators of Spirited Away, and Academy Award®-nominated director Isao Takahata, comes an action-packed ecological fable about the clash between nature and human civilization.
The tanuki (raccoon dogs) of Tama Hills find their fun-loving community under attack when their quiet woodlands are threatened by encroaching developers looking to create still more houses and shopping malls. Desperate to survive, the tanuki band together and learn the ancient art of transformation, shape-shifting into a comical variety of humans and spirits as they undertake a last-ditch plan to scare away the humans and save their home, in this deeply-affecting, funny and heartfelt look at what it means to live in the modern world.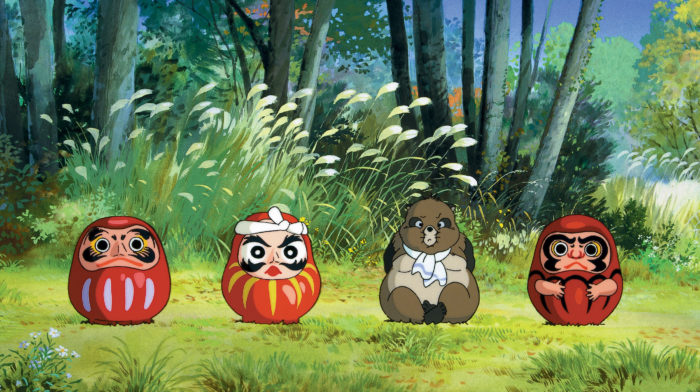 Princess Mononoke
Sunday, July 22; Monday, July 23 and Wednesday, July 25
Inflicted with a deadly curse, the young warrior Ashitaka heads west in search of a cure. There, he stumbles into bitter conflict between Lady Eboshi, the proud people of Iron Town, and the enigmatic Princess Mononoke, a young girl raised by wolves, who will stop at nothing to prevent the humans from destroying her home and the forest spirits and animal gods who live there.
Featuring the voices of Gillian Anderson, Billy Crudup, Claire Danes, Minnie Driver, Jada Pinkett Smith and Billy Bob Thornton.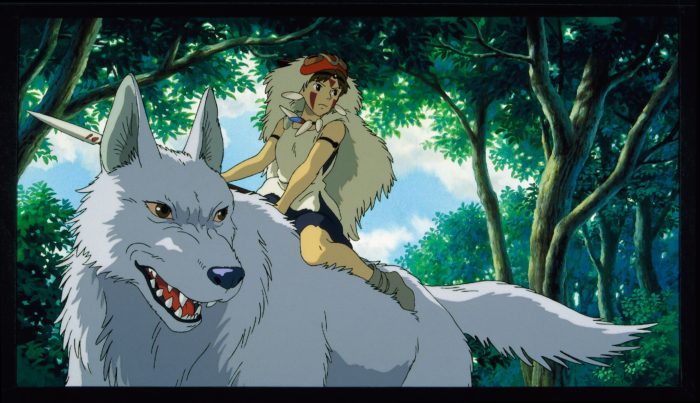 Grave of the Fireflies – 30th Anniversary
Sunday, August 12; Monday, August 13 and Wednesday, August 15
Directed by Academy Award®-nominated Isao Takahata, Studio Ghibli's Grave of the Fireflies has been universally hailed as an artistic and emotional tour de force.
As the Empire of the Sun crumbles upon itself and a rain of firebombs falls upon Japan, the final death march of a nation is echoed in millions of smaller tragedies. This is the story of Seita and his younger sister Setsuko, two children forced to fend for themselves in the aftermath of fires that swept entire cities from the face of the earth. Their struggle is a tribute to the human spirit. Presented in its digitally remastered and restored format,
Grave of the Fireflies is one of the rare films that truly deserves to be called a masterpiece.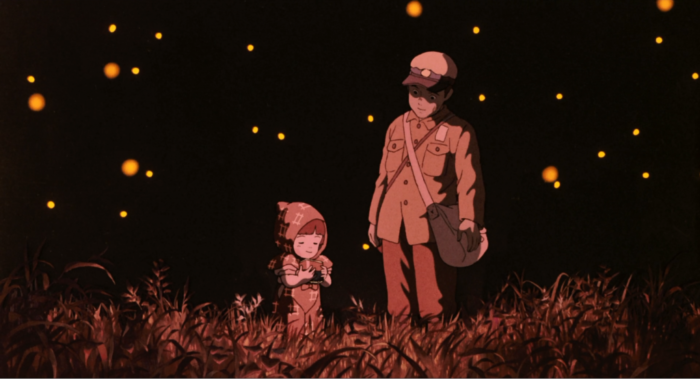 My Neighbor Totoro – 30th Anniversary
Sunday, September 30; Monday, October 1 and Wednesday, October 3
Celebrate the 30th anniversary of My Neighbor Totoro, from the legendary Studio Ghibli, creators of Spirited Away, and Academy Award®-winning director Hayao Miyazaki. When Satsuki and her sister Mei move with their father to a new home in the countryside, they find country life is not as simple as it seems. They soon discover that the house and nearby woods are full of strange and delightful creatures, including a gigantic but gentle forest spirit called Totoro, who can only be seen by children. Totoro and his friends introduce the girls to a series of adventures, including a ride aboard the extraordinary Cat Bus, in this all-ages animated masterpiece featuring the voices of Tim Daly, Lea Salonga, and real-life sisters Dakota and Elle Fanning, in a classic tale of magic and adventure for the whole family.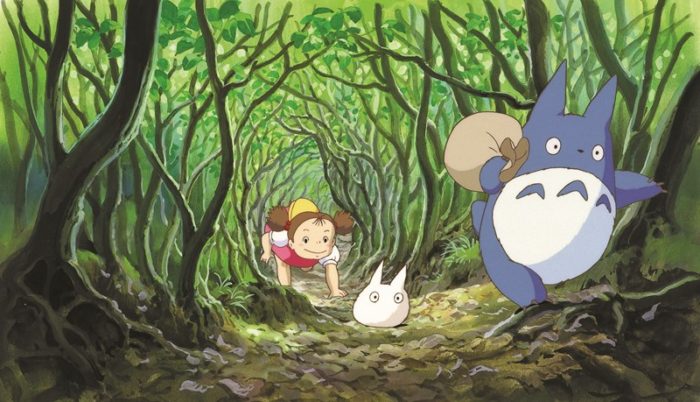 Spirited Away
Sunday, October 28; Monday, October 29 and Wednesday, October 30
Hayao Miyazaki's Academy Award®-winning masterpiece Spirited Away was the biggest box office hit of all time in Japan and helped redefine the possibilities of animation for American audiences and a generation of new filmmakers.
Chichiro thinks she is on another boring trip with her parents. But when they stop at a village that is not all that it seems, her parents undergo a mysterious transformation, and Chihiro is whisked into a world of fantastic spirits, shape-shifting dragons and a witch who never wants to see her leave. She must call on the courage she never knew she had to free herself and return her family to the outside world.
Combining Japanese mythology with Alice in Wonderland-type whimsy, Spirited Away cemented Miyazaki's reputation as an icon of animation and storytelling.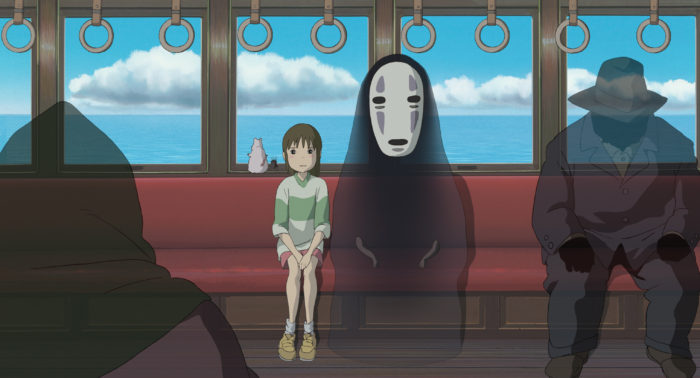 Castle in the Sky
Sunday, November 18; Monday, November 19 and Wednesday, November 20
Castle in the Sky is a timeless stor of courage and friendship, with stunning animation from acclaimed Academy Award®-winning director Hayao Miyazaki.
This high-flying adventure begins when Pazu, an engineer's apprentice, spies a young girl, Sheeta, floating down from the sky, held aloft by a glowing pendant. Both Sheeta and Pazu are searching for the legendary floating castle, Laputa, and they vow to travel there together to unravel the mystery of the luminous crystal. But their quest won't be easy, as soon they are being pursued by greedy air pirates, the military, and secret government agents, who all seek the power Sheeta alone can control.
The English-dubbed cast includes the vocal talents of Anna Paquin, James Van Der Beek, Cloris Leachman, Mark Hamill, Mandy Patinkin and more.